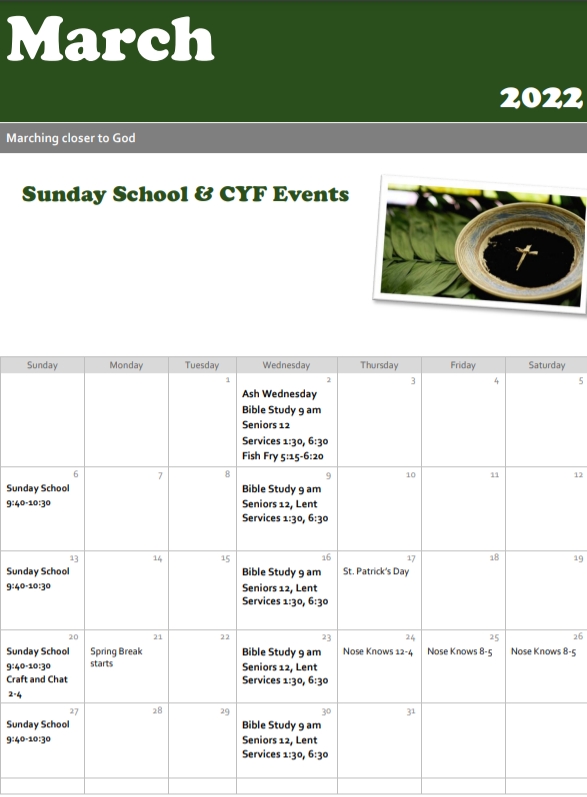 Welcome to March
and the beginning of our Lenten season.
Sunday School
In Sunday school, with Lent beginning on March 2, we will explore the path Jesus walked in the final parts of His ministry leading up to Holy Week. We will also make St. Patrick's Day cards for our homebound members as we share the Gospel as St. Patrick did. You can drop off your kiddos each Sunday at 9:35. Our lessons will begin by 9:45 and finish up just in time for the second service to start.
Just as before, pre-k/kinder will meet in the library, and elementary will meet in the Connect Center. Our middle & high school will be meeting in Pastor Don's office for the time being. We would love to have you all join us each Sunday.
Craft & Chat
A big thank you to all who attended our Craft and Chat afternoon in February. It was wonderful to chat, share creativity, laugh, learn from each other, and drink tea together!
Our next Craft and Chat is March 20th from 2 to 4 pm. Come by for the whole time or just an hour. Bring a project you've always meant to complete or just come for the tea.
Next month at Craft and Chat on April 24th, Dottie Buss will be teaching the art of card making with a special Mother's Day card. Everything will be provided, you just need to let us know if you would like to attend. If you have a craft idea you'd love to teach or if there is a craft you've always wanted to learn, let me know! There is plenty of room in the lower level of the church for all of us. I hope to see you on March 20th for Craft and Chat from 2-4 pm., feel free to bring your favorite snack if you like to nibble while you craft. As always, we will have extra coloring pages and supplies available.
Do you have any ideas, suggestions, questions, and/or do you want to volunteer?
My email is stpaulsaintsvbs@gmail.com or jennifergatke@gmail.com
"Come, all you who are thirsty, come to the waters."- Isaiah 55:1
Jennifer Gatke
Sunday School Superintendent Children's Ministry