St. Paul Lutheran Church
Established in Sherwood, OR in 1878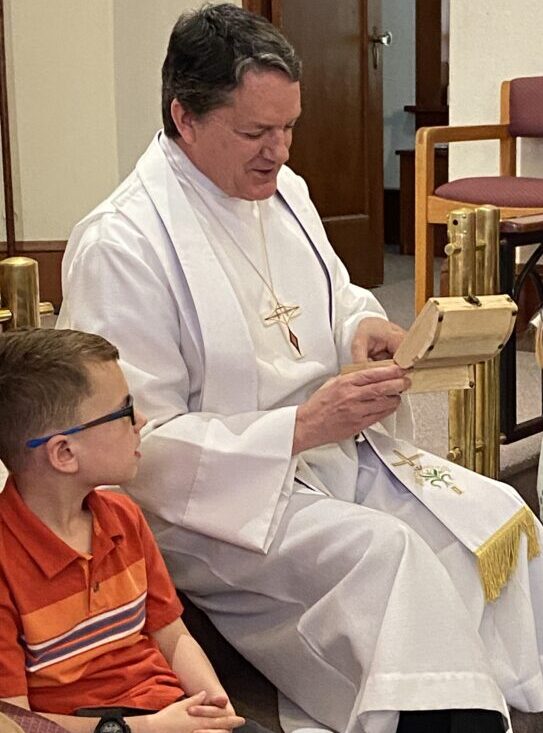 St. Paul Lutheran Church has long been a part of Sherwood. We are thrilled to be part of this community and to be a place where people can come together and worship their Lord and Savior Jesus Christ.
On a typical Sunday you will see people of all ages in our church. Not all of us are beautiful, rich, smart, or funny. But we love each other no matter what and we encourage each other to grow in our faith and to live lives dedicated to the Lord.
We struggle. We're human. We make mistakes. We can be jerks. We confess. We ask for forgiveness. We give forgiveness. We heal. We grow. We encourage. Most of all we love the LORD! In the end our church is not about us. It's about Jesus Christ and that's where we try to keep our focus.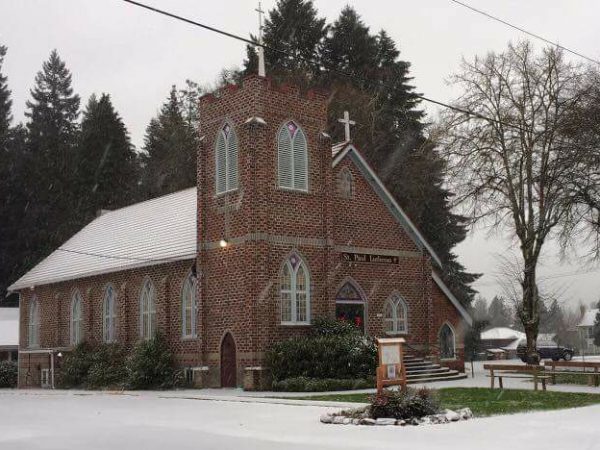 The state of Oregon was only 19 years old when the First German Evangelical Lutheran St. Paulus Congregation of the Unaltered Augsberg Confession, near Middleton, Washington County, Oregon was organized in the Peter Mohrmann residence on October 24, 1878.
The present brick church was dedicated to the glory of God on October 26, 1930. Inside these walls, and in the two previous church structures, the congregation grew in numbers and faith. Records show that the first English services began in 1914. St. Paul can be called the oldest Lutheran Congregation in the Northwest of the Missouri Synod, although technically it did not join the Missouri Synod until later.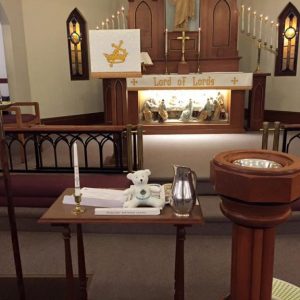 "the Lord's Supper statue was a gift from the 1920 confirmation class"
Lutheran Missouri Synod
Beliefs and Practice
With the universal Christian Church, The Lutheran Church—Missouri Synod teaches and responds to the love of the Triune God: the Father, creator of all that exists; Jesus Christ, the Son, who became human to suffer and die for the sins of all human beings and to rise to life again in the ultimate victory over death and Satan; and the Holy Spirit, who creates faith through God's Word and Sacraments. The three persons of the Trinity are coequal and co-eternal, one God.
Our congregations accept and preach the Bible-based teachings of Martin Luther that inspired the reformation of the Christian Church in the 16th century. The teaching of Luther and the reformers can be summarized in three phrases: Grace alone, Faith alone, Scripture alone.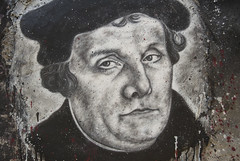 Governance
Pastors, Officers, and Boards
We hold elections at the end of each year for Congressional Officers (President, Vice President, Treasurer and Secretary) as well as board members. Boards include the Board of Elders, Board of Trustees, Board of Education, Board of CYF, and the Board of Outreach.
Members may also participate in a variety of groups to include Praise Team, Flower Guild, and various other ministries.
In addition to spiritual guidance, our Pastor's frequently join board meetings and engage in other ministries such as Senior Tech and youth activities.