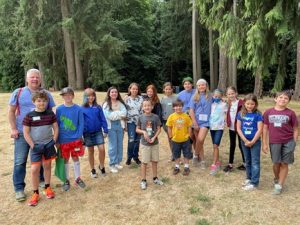 Psalm 112:4 Light shines in the darkness for the upright; He is gracious, compassionate, and righteous.
Robin Hood Festival and Oktober Festival are two gatherings we had been looking forward to this September and here were are ready to publish the newsletter and there is uncertainty as to what we should do. We have decided to send a survey out to see what you would like to do. The struggle is REAL ! We all continue to make choices everyday on how we are going to LIVE the one LIFE God has graciously given to us.
What are we to focus our energy on? What are we to do to Glorify His name? There is much to do and life finds a way forward. It was encouraging to see Jeff and Cindy Snyder at church last week, what courage, strength and grace they both exemplify. Showing up sometimes is all we can do and often that is enough. The enemy's weapons are fear and uncertainty but our God has overcome these and gives us weapons to fight, to resist and to overcome the enemy's evil skims. God gives us His Spirit with a bright light that shines in the darkness.
So we will continue to pray and seek His wisdom as to the way we should go. So what is happening? Where can you participate and contribute to growing His Kingdom?
***Now we have heard both have been cancelled for 2021***
Christian Education
We all need to be in His word on a daily basis, we also need to be gathering and studying His word as a church body as we were prior to the lock-down of 2020. Church council is dedicating the September meeting to re-establishing our adult and youth Sunday School Programs. Jennifer Gatke will be our superintendent for CE for the coming year. It is our intention to have have Pre-School, Elementary and High School Education initially starting in the Education Building with Adult classes in the lower level of the church. All interested teachers and parents should plan to attend and help us grow this important part of our community.
Rummage Sale
Cyndi Perone and company have been busy organizing donated items, etc. in the Connect Center and Old School Building. We are not accepting anymore donations at this time. The SALE is planned for two Thursdays and Fridays from 8:00-5:00 PM on August 26 and 27 and again September 2 and 3. If there are volunteers that would like to open and manage shop on Saturday or Sunday following those dates, please contact Cyndi.
Looking Ahead
Our Church Constitution and Bi-Laws indicate that in September our Vice President will form a committee of current board members to meet and identify candidates for the various offices and boards for the elections that are to be held in December. The group then establishes a list of potential candidates and agrees on a plan for contacting individual members of the congregation than at subsequent meetings the group meets and updates the list as to who is willing to serve. Well we have a problem, we don't have a Vice President to perform this very import task. There is also a requirement that we have at least two candidates for each office.
Elections (cont.) This is very important as there is much to do and the current officers and board members need your help and support. Last year with Covid-19 and all that it brought, we had no new candidates for any of the boards or offices. This is a problem that must be addressed by the voters. Many of those currently serving are growing tired of the lack of respect and appreciation for those currently serving. Others need to come forward to share the load of leadership in the church body.
We have a Regular Voters' Meeting scheduled for September 19, 2021 at noon and this will be the first item of business. If we have two volunteers for the position of Vice President, one of them will be appointed. The only other item of business for this meeting will be to review and discuss the church council meeting minutes from August 19, 2021. We anticipate that copies of the council meeting minutes will be available at the back of the sanctuary or downstairs on the table near the side door by September 12 the Sunday prior to the voters' meeting.
Here is some encouragement from Isaiah 58:8-11
Then your light will burst forth like the morning, your new skin will quickly grow over your wound; your righteousness will precede you, and ADONAI's (God's) glory will follow you. Then you will call, and ADONAI (God) will answer; you will cry, and he will say, "Here I am." If you will remove the yoke from among you, stop false accusation and slander, generously offer food to the hungry and meet the needs of the person in trouble; then your light will rise in the darkness, and your gloom become like noon. ADONAI will always guide you; he will satisfy your needs in the desert, he will renew the strength in your limbs; so that you will be like a watered garden, like a spring whose water never fails.