S.P.A.R.K. (St. Paul Church's Announcements to Read and Know) June 2022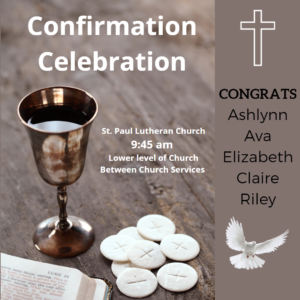 For we hear that some among you walk in idleness, not busy at work, but busybodies. Now such persons we command and encourage in the Lord Jesus Christ to do their work quietly and to earn their own living. (2 Thess. 3:11,12)
Paul, in his second letter to the Christians in Thessalonica, encouraged them to do the work of an evangelist, not be lazy about it, and not put on a show of work just to impress others. In the church today, there is plenty to do as an evangelist, and very little of it impresses anyone. Nevertheless, one continues because he knows his labor is not in vain.
My labor will not be in vain this summer, as there is much important work to do in the church. Here is an outline of what's going on that you can pray for:
Pentecost Sunday, confirmation. Five of our youth will be confirmed on Sunday, June 5th at the 10:45 AM service. A reception will precede the service in the lower level of the sanctuary. Please pray that Claire, Riley, Ashlynn, Ava and Elizabeth will remain steadfast in the faith in this ever-changing world.
June 9-11, Northwest District of the Lutheran Church-Missouri Synod Convention, Portland. I will be attending this convention as your pastoral delegate. Please give thanks to God that our district and synod, is not experiencing any undue controversy or division. Pray that our churches in the northwest will continue moving forward in our spiritually hard-soil environment.
Confirmation Camp, Camp Lutherwood. I am taking two of our newly confirmed young people plus one new confirmand to Lutherwood for a week-long camp. Please pray for good weather, and growth in faith during this extended time away from home with other Lutheran Christian youth.
National Youth Gathering, Houston TX, July 8-14. My wife Jill, Jen Gatke and I are taking two of our high school youth to Houston for the LCMS youth gathering. Please pray that our faith is strengthened through this dynamic event. This will be my fifth National Youth Gathering, Jen's second, and Jill's first. It will also be J.P. Garstka's and David Sanchez's first national youth gathering.
These and many more summer events such as Family Camp, Mission Festival, and Vacation Bible School are laid out before us. Please pray that people will be edified and encouraged in the Gospel of Jesus Christ though these opportunities He has given us.
After Labor Day, if you happen to drive through the east part of our campus on a weekday and see kids playing outside and cars parked there, it's because I have approved a rental agreement with Firm Foundations Academy Northwest, to use modular C and the historic school house three days a week for home schooling. The pandemic has increased the need for alternatives to traditional schooling, and we have classroom space available for this purpose. There will be opportunities to meet new people, offer them our church and preschool, participate in our youth and family activities, as well as receive some income which will benefit our general fund. Please pray this will bear much fruit in the kingdom of God, and foster growth in the church.
Well, that's enough idleness for now—I must get back to work. It is a joy being your pastor here at St. Paul, and partnering with you in the public ministry of the Church in such a wonderful community as Sherwood. God's peace be with you.
Pastor Don