Happy summer middle and high school youth, kids and families! July is brimming with CYF events and trips, while August has VBS, Gospel at the Beach, and S'mores Galore!
VBS registration is in full swing!
We need all the volunteers we can get. If you and/or someone you know wants to help out with VBS, sign up today! This year we are diving into 'Sparks Studio' where we will explore how we are Created! Designed! And Empowered! By God! Join us to sing, dance, explore, and create as we learn all about God's unfailing love for all of us! VBS is August 1st thru 5th from 9 am till Noon. Registration is open for participants ages 4 to 12 years old, Volunteers ages 13+. Sign up at www.myvbs.org/stpaulsherwood .
On July 8th, Pastor Don, Jill, and I will chaperone JP Garstka and David Sanchez to our National Youth Gathering in Houston, Texas! We have been preparing, praying, and supporting each other as we see Christ 'In All Things' throughout the past year. There is nothing like worshipping God with 25,000 teenagers from all over the country. Thank you all for your prayers and support! This is truly a life blessing event. We are truly blessed to be a part of it all.
Sunday school is happening this summer in the Connect Center at our usual time- 9:40 to 10:30 am. During the summer both the preschool and elementary age classes are merged into one super group. Our special summer curriculum focuses on God's Gifts of Grace for each and every one of us. We will explore God's Gifts of Grace by making puppets, crafts, using our imagination to visit exciting places all over the world, and playing goofy games. We would love to have your kids join in on all the fun! Want to volunteer to lead a Sunday school lesson?!? Just let me know! I promise it will be a highlight of your summer. This summer is a great time to try your hand at teaching Sunday school.
There are 2 family camps this July at Camp Lutherwood. The first camp is July 8th -10th, the second is July 21st -24th. We have several families attending these camps and our very own Gina Byers is working as the camp nurse at Lutherwood as well.
VBS! VBS begins August 1st!
We will begin setting up and decorating after Missionfest on July 31st. We can use everyone's help transforming our campus into God's creation studio. There are posters to hang, pew signs to mount, giant craft supplies to situate, and so much more. All volunteers are expected to lend a hand with set up. After set up, we will pass out camp shirts and have a brief meeting. On Monday August 1st, we ask that volunteers arrive at 8am and report to the Senior Saints building. The rest of the week volunteers can arrive by 8:30. We will have our traditional S'mores Campfire on Wednesday August 3rd at 6:30pm and our end of VBS hot dog lunch on Friday August 5th.
Attention Middle and High school youth!

The amazing Talia Johnston will be hosting special Campfire nights throughout July and August just for you! Starting with Wednesday July 6th at 7pm and again on July 30th after our Veggie Tales movie night, around 7pm. August campfires will be the 3rd at 6:30pm and August 24 at 7pm. RSVP to taliaj1@frontier.com or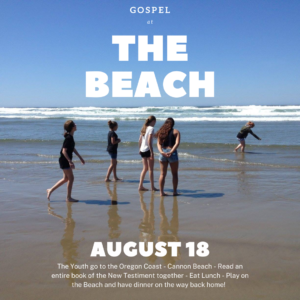 jennifergatke@stpaulsherwood.org
Gospel at the Beach with Pastor Don is August 18th. We will drive down to the beach, read 433the Gospel, build sand castles, play in the surf, and enjoy dinner at Camp 18 on the way home. Bring a towel, change of clothes, sunscreen, a sack lunch, and $15 to help cover the cost of dinner. We will provide the transportation from church to the beach and back again. This is a wonderful opportunity to strengthen your friendships with God and each other. RSVP to jennifergatke@stpaulsherwood.org
Family Movie Night will be July 30th and August 30th at 6pm. We will be watching Jonah a Veggie Tales Movie in July and Josh and the Big Wall in August. Bring a blanket or stuffed Veggie doll and enjoy this vegetable masterpiece with us. Popcorn and Juice boxes will be provided. RSVP with me, Jen Gatke!
Craft and Chat will be August 21st from 2-4 pm in the church library. Bring that project you've always wanted to finish, or the one you've been meaning to start. Enjoy the tea and company of your family as we craft and chat together.
Do you have any ideas, suggestions, questions, and/or you want to volunteer?
My email is: jennifergatke@stpaulsherwood.org
"For I hold you by your right hand- I, the Lord your God. And I say to you, 'Don't be afraid. I am here to help you.'"- Isaiah 41:13
Jennifer Gatke
St. Paul Youth Program Director