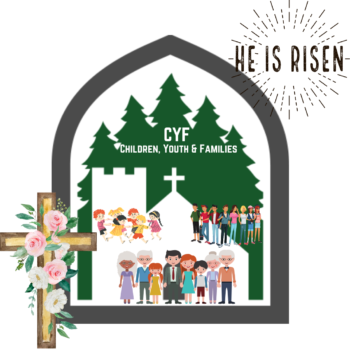 Happy April everyone! Praise be to God for He has Risen Indeed!
I can tell spring is in the air as the sun shines a little more each day. Your CYF board has been busy organizing several upcoming events and planning the next few months' calendars. We want to give you ample time to plan for these events.
Sunday school is finishing up our special Lent lessons, The Tree of Life God's Promise of Salvation, this month. We've really enjoyed this special curriculum with its games and trivia cards that have kept us all on our toes. We would love to see you all every Sunday from 9:40 to 10:30 am in the Education Building for Sunday school! If you would like to help with Sunday school, now is the perfect time to join us! My email is jennifergatke@stpaulsherwood.org
CYF news and upcoming events:
April 2nd is Palm Sunday. We would like all the kids to attend the 10:45 am service and join the procession of palm branches at the beginning of the service.
April 8th is our Egg Hunt. Middle and High schoolers are to arrive at 9 am to help set up and hide eggs before the hunt starts. The Egg hunt begins at 10 am in the Sanctuary. Everyone is welcome- bring your friends, neighbors, and family! Once the Egg Hunt is concluded, we will set up the lower level of the Church for the Easter Breakfast the next day.
April 8th we will also be decorating the flower cross in front of the church. If you would like to donate flowers and help decorate, join us at 11 am by the front of the Church.
April 9th is Easter Sunday. Those helping with the Easter Breakfast need to arrive by 7 am. Breakfast begins at 7:30 am and ends at 10 am. We will be serving pancakes, scrambled eggs, diced potatoes, ham, sausage, fresh fruit, coffee and juice. This is a wonderful fundraiser for our youth group and we have a lot of fun serving you! Your donations are graciously accepted.
April 16th we will begin selling the gorgeous flower baskets for Mother's Day. Baskets will be $38.00 each and available for pick up from The Purple Hen on or after May 1st. Thanks to the generosity of The Purple Hen, this fundraiser will continue throughout the summer as well. Order forms available to print here.
April 23rd from 7 pm- 9:30 pm is our Youth Group Egg Hunt in the Connect Center. This event is for all middle school and high school youth. We are going to have potluck taco bar for dinner, followed by our flashlight egg hunt and special prizes! Watch for the email to sign up to bring a dish as we get closer to this event.
Looking into May, Pastor Don will be hosting a model building Saturday May 20 from 12-3 pm for those 12 years old and up. More details will be given in the May newsletter.
Lastly, we need a new location to have our High School youth group meetings. For many years we would meet at Symposium on a Wednesday evening. Symposium closes in the early afternoon on week days now. We are looking for a cozy place to have fellowship along with a small bite to eat and drink. If you have any suggestions, please let us know!
Do you have any ideas, suggestions, questions, and/or you want to volunteer?
My email is: jennifergatke@stpaulsherwood.org
"We have this hope as an anchor for the soul, firm and secure."-Hebrews 6:19
Jennifer Gatke
St. Paul Lutheran Youth Program Director