Greetings in Christ Jesus
What's your response to Easter? The response at the first Easter was fear and confusion. When Jesus came out of the grave, the guards were terrified and ran. The women who came didn't believe. When they told the disciples, they didn't believe. There were no Alleluias.
This Easter we will declare our Alleluias! Yet there will be many who will not. Many do not believe in the Resurrection. Fortunately, the women and disciples soon came to believe the wonderful news. This Easter may the joyous good news of Resurrection give you hope that blesses you every day. May we share this message with those who do not know what we have. Jesus Christ is Risen! Alleluia!
Maxine and I pray that your Easter is joyful!
On Good Friday, there will be a special worship service at 1:30 pm. In the Senior Center Chapel followed by enjoying a Hot Cross Bun. All are invited. There will also be a Maundy Thursday Service with Holy Communion at 1:30.
Time for Bingo your friendly Basset Hound..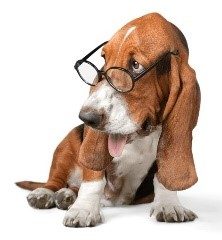 Hi Folks, Things are buzzing at the Senior Center. Spring is in the air. But where is global warming? I am waiting for warmer temperatures. It is easier to sniff out rabbits. This month I have some Sunday humor for you. Easter celebrates smiles. So here are some for you.
Here are some signs you may be in the wrong church. Everyone singing in the choir is an Elvis impersonator.
You must ask the pastor for the keys to the bathrooms.
Service was supposed to start 10 minutes ago, still you are the only one there.
How did Pharaoh's daughter come into financial gain? She found a little prophet floating in the Nile.
Did you know tennis was mentioned in the Bible? Joseph served in Pharaohs court.
A SS teacher asked her class, why should you be quiet in church? A little boy said, because the people are asleep.
Keep smiling,
Bingo