And behold, the star that they had seen when it rose went before them until it came to rest over the place where the child was. When they saw the star, they rejoiced exceedingly with great joy. (Matthew 2:9b-10)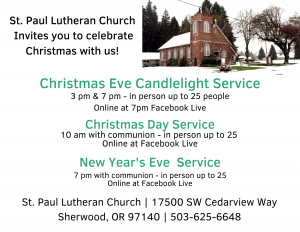 Can we rejoice with "exceedingly great joy" this Christmas even during a pandemic? Absolutely! We've been given the Good News that Jesus was born in Bethlehem. No matter what is going on in the world, Advent and the following Christmas season is a time for exceedingly great joy because our God has come to save us from sin, death, and the devil. No virus can infect God's Word and make it weaker or kill it. It remains a life-giving Word for us especially when we are weakened by sickness and the troubles of sin. I know the days are short, the nights are long, and we've been indoors for far too long; but we still look forward to the return of our King who brings His kingdom into this dark world, giving us hope of an everlasting future with no more sickness, pain, tears, and death.
I may have mentioned before it hasn't been easy these past several months knowing who has been participating in Sunday worship online. My colleagues in the circuit all agree, it's been a pastor's special kind of anxiety during Covid not fully grasping if the people of his congregation are participating in the spiritual and worship life of the Church. If you are a "I'm just waiting until we can all come back into church" person and have not participated in worship online at all since March, I wonder how you are doing spiritually. Are you at least reading the Scriptures at home for strength and encouragement from the Holy Spirit? Are you watching T.V. evangelists or listening to preachers on the radio? I would imagine earlier this year, like me, you thought the virus would run its course for a couple months and we'd be back in church. But here we are, it's December, and we've got a ways to go before it'll be safe again to congregate in full. I heartily encourage you to find a way to connect with your church's services online if you haven't done so already. I know you didn't ask for this situation to be brought onto you, and you may not feel like jumping through all the hoops to have the technology installed in your home and learn how to use it in order to participate in worship. Nevertheless your church is here to help you remain connected to God's Word, so please let me, pastor Kiessling, or an elder know you want to get connected with the online Sunday services and we will work on it with you.
May the Holy Spirit fill you with true joy over the gift of a Savior and give you courage and faithfulness in sharing the joyful Christmas message with others.
From my family to yours,
Pastor Don