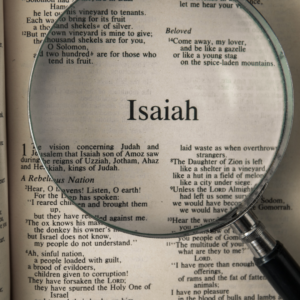 Remember not the former things, nor consider the things of old. Behold, I am doing a new thing; now it springs forth, do you not perceive it? I will make a way in the wilderness and rivers in the desert. Isaiah 43:18-19.
A pastor's November newsletter article to the people of his church usually contains the customary "let's give thanks to God for all the blessings he's given us this year." This year it seems more than customary to give thanks to God; the fact that we are still gathering to worship and carry out the ministry of Jesus Christ despite the difficulties we face—well—we owe our very existence and every breath we take to Him. It's his church after all, and he will make it grow and prune it at will. Perhaps he is doing a new thing right now as we struggle to understand and cope with apathy, dwindling membership and internal strife.
Regarding the "new thing" God speaks to us about through his prophet Isaiah, the commentary in my Lutheran Study Bible says this: Rather than looking back on the glory days of the past exodus, the Lord wants His people to see Him as their present provider of exodus, their deliverer from Babylon. He demonstrates this by bringing life-giving water to His people living in the wilderness and desert. (p. 1160)
God was doing a new thing in the mass departure of his people Israel from captivity in Babylon. What is he doing now in the mass departure of his people from the church he established through his Son, Jesus Christ? Well one thing is for sure, he is still caring and providing for us. This may not seem new, as he has cared and provided for his people all along. But when it looks and feels like things are falling apart, God tells us every moment that he has provided us a deliverer from death, the devil, and hell. Not only has he brought us life-giving water in our baptism, but he also gives us his life-giving body and blood for the forgiveness of sin. I've tried to find a word that goes beyond "customary" in describing our thanks to God for this, but it escapes me right now. Nevertheless, I rejoice with you that God has made us his people and will see us through every time of trouble. May his peace always be with you.
Pastor Don