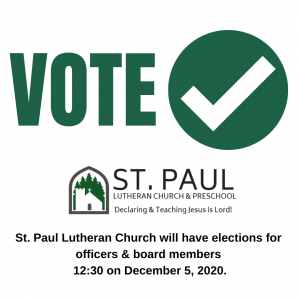 Declaring & Teaching – Jesus is Lord !
Elections
Well if it is November it must be time to talk about elections. By the time you receive this the big one should be just about behind us depending on when you receive your copy and hopefully we can all move forward in unity in praising the Lord and celebrating the many blessings He has provided to us as brothers and sisters in Christ here at St. Paul. For one, we can continue to celebrate that we have been gathering as such for 142 years and that we continue to grow and thrive in His Spirit !
So what about elections? The church will have elections for officers and board members at 12:30 on December 5, 2020. We encourage those interested in serving to contact me or someone on one of the boards and ask to be nominated for a position. We are always looking for people willing to serve the Lord. Currently we are without a Vice President who would normally head-up the election committee. I have asked the board chair persons to confirm that those currently serving are willing to continue to serve for 2021, same for officers. At this time it appears that everyone will continue to serve in their present positions for the coming year.
If there is anyone currently serving that does not want to continue to serve, please email Terri Green and myself so we can remove you from the ballot.
Council meetings have been sparsely attended and council has agreed to limit in-person meetings. Our next meeting will be at 12:15 on Sunday, December 5th if we have new business that needs to be addressed. Following that meeting council is not planning to convene until March 18, 2021 at 6:30 PM. If there is any new business that requires a council meeting we may try to conduct it online as a Zoom call where Pastor and I would meet in his office or we will schedule an in person meeting if there is sufficient interest.
Did everyone enjoy Reformation Sunday and the welcoming of our new confirmands? That was truly exciting and something to celebrate. The Elders and Pastor will be working on the calendar Advent.
The Truth Will Set You Free
Here is a reading I found on the LCMS Church Calendar for Reformation Day, The Truth Will Set You Free, John 8:31-36; "So Jesus said to the Jews who had believed him, "If you abide in my word, you are truly my disciples, and you will know the truth, and the truth will set you free." They answered him, "We are offspring of Abraham and have never been enslaved to anyone. How is it that you say, 'You will become free'?" Jesus answered them, "Truly, truly, I say to you, everyone who practices sin is a slave to sin. The slave does not remain in the house forever; the son remains forever. So if the Son sets you free, you will be free indeed.
Now that is encouraging !
In celebration of Reformation Day, I thought it appropriate to share some more scripture. A few weeks back we read Mathew 21:23-27; here is the scripture followed by some commentary from Mathew Henry.
The Authority of Jesus Challenged
And when he entered the temple, the chief priests and the elders of the people came up to him as he was teaching, and said, "By what authority are you doing these things, and who gave you this authority?" Jesus answered them, "I also will ask you one question, and if you tell me the answer, then I also will tell you by what authority I do these things. The baptism of John, from where did it come? From heaven or from man?" And they discussed it among themselves, saying, "If we say, 'From heaven,' he will say to us, 'Why then did you not believe him?' But if we say, 'From man,' we are afraid of the crowd, for they all hold that John was a prophet." So they answered Jesus, "We do not know." And he said to them, "Neither will I tell you by what authority I do these things.
Commentary:
Our Lord Jesus (like St. Paul after him) preached his gospel with much contention; his first appearance was in a dispute with the doctors in the temple, when he was twelve years old; and here, just before he died, we have him engaged in controversy. The great contenders with him, were, the chief priests and the elders, the judges of two distinct courts: the chief priests presided in the ecclesiastical court, in all matters of the Lord, as they are called; the elders of the people were judges of the civil courts, in temporal matters. These joined to attack Christ thinking they should find or make him obnoxious. See how woefully degenerate that generation was, when the governors both in church and state, who should have been the great promoters of the Messiah's kingdom, were the great opposers of it! Here we have them disturbing him when he was preaching, v. 23. They would neither receive his instructions themselves, nor let others receive them.
This is just the first paragraph of Mathew Henry's commentary on this reading, it goes on for several pages and I would encourage anyone interested in learning more about this scripture to continue to read it online, it really helps to bring it to life.
Stay Healthy! Hope to see you in church in the very near future.
In His Service,
Tim Grace