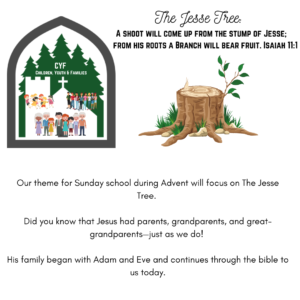 Hello everyone! I pray that the Joy of this Advent Season will fill your hearts and homes with the Love of Christ Jesus completely!
Our theme for Sunday school during Advent will focus on The Jesse Tree. Did you know that Jesus had parents, grandparents, and great-grandparents—just as we do! His family began with Adam and Eve and continues through the bible to us today.
With the Jesse Tree as a guide, we will meet the key people from the Bible who are Jesus' ancestors and learn how they are a part of God's plan for our salvation. Learning about our Savior's family tree helps us to see how God kept His promise to redeem us all and make us His children—a promise kept and sustained over thousands of years. That is something to be excited to learn!
On December 4th after 2nd service, we will begin putting up the decorations, lights, and ornaments in the trees and bushes around campus.
December 11th after 2nd service, we need many hands to help set up the tents for our Live Nativity the following week.
December 11th the middle and high school youth will also be decorating the Christmas tree in the Sanctuary, eating pizza, and having a White Elephant gift exchange. Please bring a traditional White Elephant gift worth $10. RSVP with Jen Gatke by December 8th.
December 17th is our Live Nativity drive through at our Campus! We need Townspeople, Shepherds, Wise men, Inn Keepers, set up and clean up help, and so much more! We will be collecting canned food for our food pantry and new toys for a few of the families through our Possible with God clothing closet.
Finally, our last event of the year will be New Year's Eve. Service begins at 7pm in the Sanctuary followed by a special Family Game night in the lower level of the church. All ages welcome! Come join us for service, games, snacks, laughter, and fellowship! We will have an apple cider toast too!
Do you have any ideas, suggestions, and questions or want to volunteer? Please reach out to me; I would love to hear from you.
Email is jennifergatke@stpaulsherwood.org
"Suddenly, the angel was joined by a vast host of others- the armies of heaven- praising God and saying, "Glory to God in highest heaven, and peace on earth to those with whom God is pleased." Luke 2:13-14
Jennifer Gatke
Youth Program Director