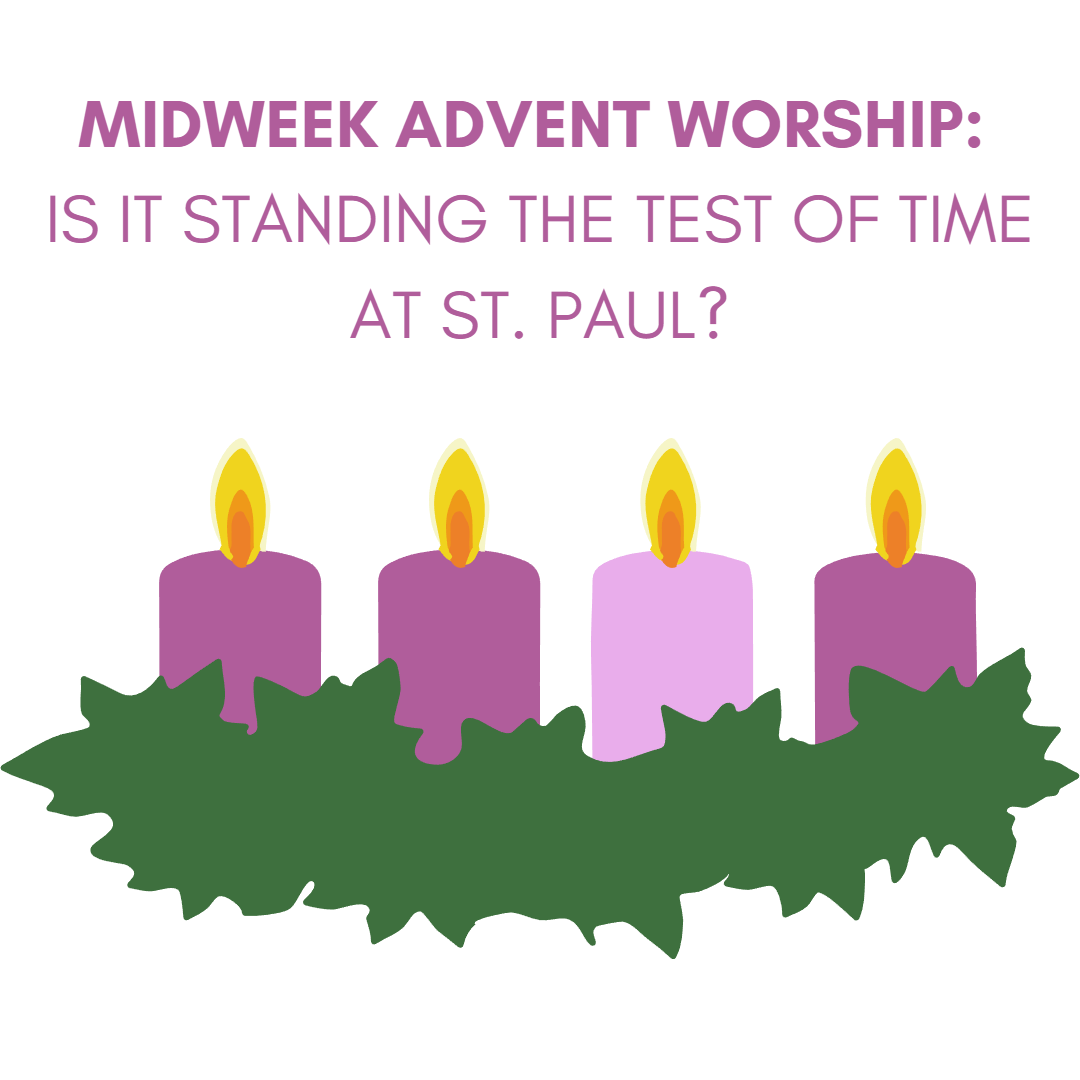 Before being called as your pastor, Jill and I were members of Faith Lutheran Church in Mtn Home Idaho, Resurrection Lutheran Church in Cambridge, England, Fountain of Life Lutheran Church in Tucson, Arizona, St. John Lutheran Church in Ellisville, Missouri, and Messiah Lutheran Church in Weldon Spring, Missouri. All these churches had traditional midweek evening services during Advent, like those during Lent.
When I came to St. Paul in 2009, I discovered the midweek Advent services here are not like they are elsewhere in the LCMS—at least in the churches where I had been a member. Instead of three Wednesday evenings of worship based on a sermon series leading up to Christmas, the first one was occupied by the Yamhill Cantata. The second Wednesday consisted of a school Christmas program led by teacher Charlotte Brandt. The third one was a preschool program titled "Unwrapping the Manger." This lineup has continued, except for the school program which ended in 2015. To replace it, I introduced a service of readings and carols led by our youth group.
Over the years I've noticed while the Yamhill Cantata is usually well attended, there aren't many people from our church in the pews. Most of those who typically attend it seem to be with members of the ensemble. Second, those who attended the preschool programs are mostly family members of the students. The youth group service also seems to be mostly attended by parents of the youth.
As if our Advent Wednesdays aren't oddball enough, Advent 2022 showed itself to be unlike any I can remember. This year the Yamhill Cantata had the largest choir in its history and couldn't fit in our sanctuary. For the second Wednesday, I prepared a service of lessons and carols like the ones at our Concordia University chapels. In attendance was myself, my wife, one son, and Frannie. The preschool program almost didn't happen due to the flu, and the youth-led service was slightly better attended, but again, mostly by parents of the youth.
I did some digging into what the other churches in Sherwood are doing for Advent and guess what, ours is the only one offering anything like a worship service on Wednesday nights. St. Francis doesn't count because they have daily mass anyways, and only in the afternoon.
If St. Paul Lutheran Church ever had traditional evening midweek Advent services, they didn't stand the test of time. Compared to the rest of the synod, we have an alternative version which came into being for whatever reason and is not generally supported by the congregation. Perhaps you went to the first Yamhill Cantata and figured, "seen one—seen them all." Maybe the little children singing Christmas carols won't get you off the couch either because your kids or grandkids are not little children anymore. Along with that it's dark, cold, and wet at 6:30 PM; the lines on the road are hard to see and you pray you don't veer off into the wildlife sanctuary. For younger families, dinner, homework, and bedtime are a priority over church events. I've noticed the same trend happening during Lent.
Thankfully, for those who don't drive at night, there is the opportunity for midweek worship in the afternoons with the seniors during their Wednesday meetings. But as far as the evenings go, if the Yamhill choir has moved on to larger pastures, we should offer the first Wednesday night of Advent to the Firm Foundations Academy who are using our classrooms. Perhaps they might want to have their own Christmas program. There's plenty of room in our sanctuary for families of 34 students. Our own preschool and youth group services will always draw in a handful of family members too. I welcome your thoughts on this possible change to next year's Advent services.