This month is packed full of fabulous CYF events! As always, these events are for the young and young at heart. I hope to see many of your smiling faces throughout June!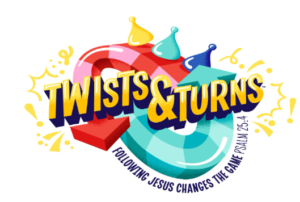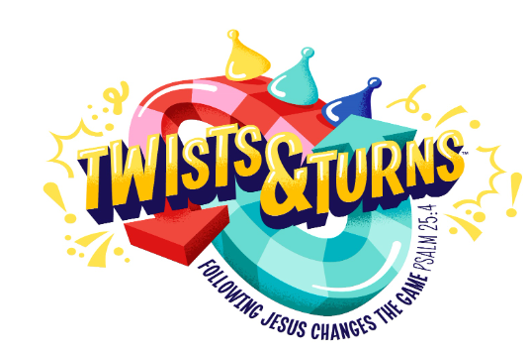 VBS registration opens on June 1st! This year's theme is 'Twists & Turns' Following Jesus Changes the Game! We hope you will join us as we sing, dance, explore, and play games at VBS July 31st thru August 4th from 9 am till Noon. Registration is open for participants' ages 4 to 12 years old and volunteers ages 13+. Sign up at www.myvbs.org/stpaulsherwood.
On Sunday June 4th, is Senior Salute! There will be a slide show at the end of each service and a reception in between 1st and 2nd service. Join with us as we celebrate this milestone with our graduating church members.
Sunday school will resume on June 11th 9:40 to 10:30 am in the Ed building for both the preschool and elementary aged kids. We will follow in the Apostles footsteps as they spread the Good News about Jesus Christ around the world. We will make crafts, play games, and explore how to share the Gospel with everyone we know. We would love to have your kids join in on all the fun!
Family Movie Night is June 24th at 4pm. We will be watching the classic Veggie Tales, 'Jonah and the Whale' in the Senior Center. Bring a blanket or stuffed Veggie doll and enjoy this vegetable masterpiece with us. Popcorn and Juice boxes will be provided. RSVP at jennifergatke@stpaulsherwood.org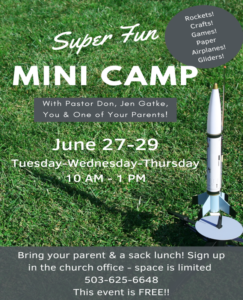 Mini Camp is June 27-29th from 10-1 pm. Our theme this year is Rockets! We will build our own model rockets, launch them, make some outer space crafts, play fun water games, and go on a scavenger hunt around campus. If you would like to join us, RSVP at 503.625.6648 or jennifergatke@stpaulsherwood.org
"Create in me a pure heart, O God, and renew a steadfast spirit within me." Psalms 51:10
Jennifer Gatke
St. Paul Youth Program Director
Youth Calendar June 23