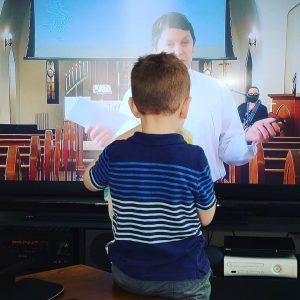 Pastor Don's Message
Dear friends in Christ,
New Church Year!
It looks like we'll be starting the new Church Year on Sunday the 29th, while still in Phase I. Nevertheless we'll continue with our special services including Thanksgiving Eve, Wednesday Evening Advent Services, Christmas Eve, and Christmas Day. My hope is to have all of these services online since our sanctuary space is limited to between 25-50 people under the current phase. It doesn't look like we'll be hosting the Yamhill Chorus this year, as well as a preschool or youth service; but we can still sing our favorite Advent and Christmas hymns and carols together online. I'll keep you posted as to what the services will be, what time, and how you can participate.
Covid Fatigue
If you are suffering from Covid fatigue, you're not alone. I am too. I'm getting used to the way things are going but at the same time, I don't want to get too comfortable with it. I miss so many things such as Sunday Bible study, new member group, Saturday men's group, Thursday night Bible study after Praise Team practice, to name a few. I'm very pleased though to have been able to confirm J.P Garstka, Ben Granquist, and David Sanchez on Reformation Sunday. I had to modify our original plan quite heavily due to the pandemic, including missing out on camp at Lutherwood. As I mentioned in my sermon on Reformation Sunday, there was no confirmation class of 1919 here at St. Paul, most likely due to the Spanish Influenza. Next year's class will be a challenge as we try and figure out how to effectively meet and learn more about our Christian faith.
You're so giving!
I want to thank all of you who donated items for the Fall rummage sale – it was a success! And I certainly wish to thank all of you who donated your time to get it ready, staffing it, and cleanup. On that note, we are not taking any more donations until further notice. With the wintery weather coming, we will be using the Connect Center as a gymnasium for the preschool and other small group gatherings. Please do not place any items on the parsonage porch either, as we want to keep that area clear for the winter as well. The funds received from the sale will go towards our youth participating in the 2022 LCMS National Youth Gathering in Houston, Texas.
God's Providence
The president of our district, Rev. Paul Linnemann reports the churches in Washington, Idaho, Oregon, and Alaska seem to be doing well despite the pandemic – none of them have folded because of it. Of course, we shouldn't be surprised at this good news since Jesus Christ is Lord of the Church. He protects us and will continue seeing us through this pandemic and through whatever other adversities come our way.
Online Church Services
Stay with the Church online, and in-person if you can. We need Jesus more than ever and our Advent season will help us keep our eyes fixed on Him. May the Lord be with you and your household.
Pastor Don