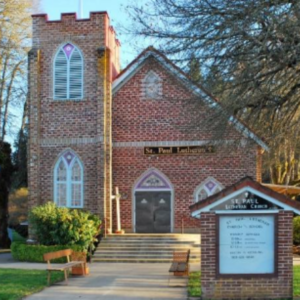 Children, Youth & Family Fall News!
Happy September! Our Children, Youth, and Families had a wonderfully jam packed summer. There were family camps and Confirmation camp at Lutherwood, National Youth Gathering in Houston Texas, Art Camp in the Connect Center, and Vacation Bible School in The Grove. We also had several campfire & s'mores nights, family movie nights, and weekly Sunday school. It truly felt like a St. Paul summer again!
At VBS this year, our theme was Created for God's Purpose! We discovered how God made each of us to not only help each other but to also help build up God's Kingdom on Earth. We shared the Love of Christ with 95 kids and 45 volunteers!
On September 4th during 2nd service, Pastor Rich will be blessing the backpacks of all our students and teachers. Feel free to bring as many backpacks as you would like. Thank You Pastor Rich for blessing our backpacks and wrapping us up in blessings this school year.
On Wednesday September 7th at 6:30pm in the Library, CYF will be having a planning meeting for the next several months. If you want to help CYF with Trunk or Treat, Thanksgiving Pie making, Advent decorating, Drive- thru Nativity- and so much more; please come to this meeting!! The Zoom Link for this meeting will be emailed out on Sept 3. If you would like to attend in-person or via Zoom, please let me know!
Oktoberfest is September 25th from 4-7 pm. CYF will be selling Root beer Floats in commemorative St. Paul Lutheran Church mugs that are yours to keep, while supplies last! The Youth will be helping run the carnival games and hand out prizes as well. If you would like to help out, please let us know!
In Sunday school, we will be finishing our look into the many ways God blesses us with gifts of His Grace. Starting September 11th, Sunday school will be held in the Education building. The High school group will meet in Pastor Don's office, Elementary will meet in the Library, and the Preschool will meet in the downstairs classrooms.
We are so excited to have all our Sunday school classes in the Education Building! Sunday school will still be between 1st and 2nd service every Sunday.
Thank you all for your prayers and support as we love everyone as Christ has loved us!
"But God showed His great love for us by sending Christ to die for us while we were still sinners." –Romans 5:8
God Bless you all!
Jennifer Gatke
Youth Program Director
jennifergatke@stpaulsherwood.org
503.550.9457 cell