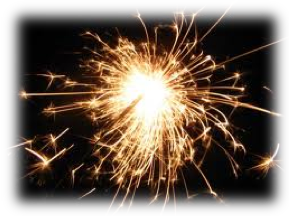 S.P.A.R.K. (St. Paul Church's Announcements to Read and Know)
September 2022
Dear friends in Christ, I am taking some time off from church work, but I will see you again on Sunday, September 11th. Below are some newsworthy items you should know as the summer comes to a close, and school starts.
On Sunday September 11th

Leslie Abbott will be installed as preschool teacher at the 10:45 AM service. We are excited to have Leslie as our teacher along with a large group of thee-year-olds enrolled—that means lots of new families to meet and get to know over the course of the year. Diana Burda will continue as preschool aide along with Rebecca Sanchez.

Also on Sunday, September 11th

we say "farewell and Godspeed" to Kathy Prehm, who has been our preschool teacher and director since 2012. A reception will be held after the 10:45 AM service in the church lower level. There will be food, cake, and a presentation. I encourage all of you to attend to recognize and thank Kathy for her outstanding service to our church and community.

Firm Foundations Academy is getting ready to launch their hybrid homeschool in Modular C and the old schoolhouse. Parents of the children who are enrolled in this program have donated many hours to cleaning and repairing the classrooms for school. This is a rental agreement and not a new mission of the church. However, we have established a good rapport with the owners of this exciting program and pray there will be opportunities for the ministry to be involved in the lives of the families who come here.
Beginning Sunday, September 11th

I will be leading a new adult education study, Callings for Life: God's Plan, Your Purpose. This series will cover questions many of us have such as, "what is my purpose in life?" "what is the one thing I was born to do?" and more. While I encourage all adults in our congregation to attend Bible study between services, I especially encourage parents with children to attend this. We have a Sunday school for your children to learn about God while you attend the adult education. Please come!
The ministry of our church enjoyed a productive and enjoyable summer. The National Youth Gathering, while brutally hot in Houston, was a success. So was our Vacation Bible School, thanks be to God, Jen Gatke, and all our volunteers who made it happen. Confirmation and Family Camps at Lutherwood were also highlights of the summer for our youth and families. Now it's time for me to rest a bit, fly some model rockets at Sod-blaster IV in Pasco, and recharge for all the activity which will be happening on our campus after Labor Day. God bless you all and have a safe and blessed rest of summer.
Pastor Don