Declaring & Teaching – Jesus is Lord!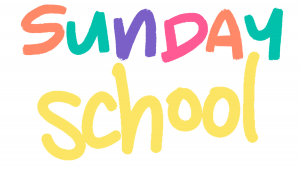 Sunday School continues to meet at 10:00 AM on Sundays. We are using a combination of the three-year lectionary readings and literature from Concordia Publishing (CPH) for our lessons. It is fun to see the changes in the color-coded pie-shaped calendar and lectionary each week and looking forward to each new season.
We are just finishing up our lessons on the Conversion of Saul found in Acts 9:3-5; "Now as he was traveling, it happened that he was approaching Damascus, and suddenly a light from heaven flashed around him; and he fell to the ground and heard a voice saying to him, "Saul, Saul, why are you persecuting Me?" And he said, "Who are You, Lord?" And He said, "I am Jesus whom you are persecuting,"
Striking how well Paul's story resonates with Jesus' words in John 3:3 "Truly, truly, I say to you, unless someone is born again he cannot see the kingdom of God."
We continue in the season after Pentecost, the readings have transitioned from the book of Acts and our study of the early church to Paul's letter to the Ephesians and the Gospel of Mark. Here's the introduction to Paul's letter.
Ephesians 1:1-14
The Blessings of Redemption
Paul, an apostle of Christ Jesus by the will of God, to the saints who are at Ephesus and are faithful in Christ Jesus:
Grace to you and peace from God our Father and the Lord Jesus Christ.
Blessed be the God and Father of our Lord Jesus Christ, who has blessed us with every spiritual blessing in the heavenly places in Christ, just as He chose us in Him before the foundation of the world, that we would be holy and blameless before Him. In love He predestined us to adoption as sons and daughters through Jesus Christ to Himself, according to the good pleasure of His will, to the praise of the glory of His grace, with which He favored us in the Beloved.
In Him, we have redemption through His blood, the forgiveness of our wrongdoings, according to the riches of His grace which He lavished on us. In all wisdom and insight, He made known to us the mystery of His will, according to His good pleasure which He set forth in Him, regarding His plan of the fullness of the times, to bring all things together in Christ, things in the heavens and things on the earth.
In Him we also have obtained an inheritance, having been predestined according to the purpose of Him who works all things in accordance with the plan of His will, to the end that we who were the first to hope in the Christ would be to the praise of His glory.
In Him, you also, after listening to the message of truth, the gospel of your salvation—having also believed, you were sealed in Him with the Holy Spirit of the promise, who is a first installment of our inheritance, in regard to the redemption of God's own possession, to the praise of His glory.
Vacation Bible School is quickly approaching, basically, we are thirty days out. Our theme is Outer Space! We will be doing Miraculous Missions based on John 3:16! We are changing lives, HOPE you can join us! Please sign up to volunteer to HELP out during the week of August 2-6. Everyone should have plenty of vacation stored up from this past year when everything was closed down.
Good News on masks! Recently our State Governor changed the Covid rules. That means social distancing will not be required; masks are not required for participants or youth volunteers, adult volunteers should be vaccinated or check with the VBS director for additional instructions. Morning drop-off will be similar to last year and will occur in the parking lots with pre-screening of participants. Parents will pick up and sign-out their kids at closing in the grove and will be able to share in the excitement of the closing each day.
Wednesday, August 4th in the evening we are planning to have a Camp Fire and S'mores and hope many of the church members will come out and join in the fun! We will have a special music program that will bring a smile to your face 😀.
On Friday, August 6th at the end of VBS, we will be having a special celebration following the closing that you will not want to miss. We are planning to have a combination of outside food brought in. Details are still being worked out but we would like to get food and refreshments from Poke Makana, as well as some tacos and a shaved ice vendor.
Summer Camp: Check ✅ that happened June 22-24 and it was a BLAST, literally. Pastor Don shared his knowledge of model rockets and the kids had fun with water games. Hope the spirit of FUN continues for the rest of the summer!
Robin Hood Festival and the parade have been moved to September 24 and 25. This will be the same weekend as the church's October Festival that will be September 26. Is the Spirit calling you? You know He is…
The Investment Committee will be meeting in July to make a recommendation to the Council of some appropriate investments for the LCEF Building Fund CD(s) that will mature on August 9, 2021. If you would like to participate, please reach out to Tim or Karen for additional information. We are always looking for new ideas and people interesting in serving. Please continue to pray for guidance and His protection for our congregation.
Blessings,
Tim Grace