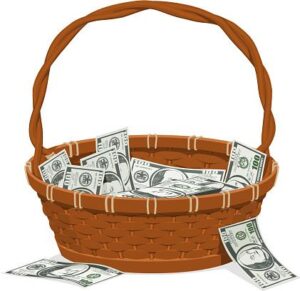 What is a free will offering?
At our Fish Fry on March 2nd, I noticed a basket on a side table, with a paper attached. Being curious, I went over and read the words, "Free Will Offering." Free will offering? It had been such a long time since I had heard the term that I needed to refresh my memory. At home, I googled it. Merriam-webster.com defined it as "a voluntary religious offering made in addition to what is required by a vow, tithe, or pledge." You know, I'm grateful the church provides me with the opportunity to gather to eat and visit with my church family. Looking forward to future church-sponsored meals, I'm planning on having some free will offering money in my pocket.
I'm also grateful for the greatest free will offering ever given. I'm grateful God freely gave His son, Jesus, to die on the cross. And grateful Jesus was in full agreement with His father to shed His blood to save me from my sins. And grateful He rose on the third day. I'm grateful I serve a living Savior.
Warm Easter greetings to all,
Dottie Buss