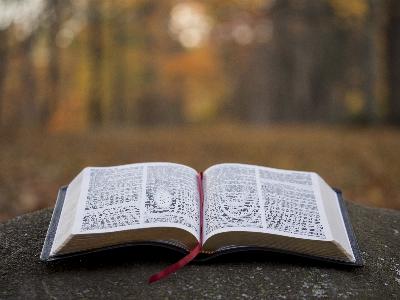 April 2021 From Your Congregational President
Declaring & Teaching – Jesus is Lord !
Well a good friend of ours ends his voicemail greeting with a little slogan that is appropriate for all of us to keep in mind, "Remember, it's later than you think." To me it means, we often feel like we have all sorts of time but then all of a sudden we realize that our time is actually very limited and precious, every single minute of it. With that thought in mind, I recently came upon a book that I would like to share with you, it's called The Power of 1440 by Tim Timberlake. The motivation for his writing involved the passing of his father and a perceived missed opportunity in not being fully present during the final day with his father. 1440 is the number of minutes we all have in a day, Timberlake wants us to see with new eyes the benefit and blessing of every moment of every day.
In recent weeks I keep coming back to the book of Mark and Jesus' Triumphal Entry to Jerusalem in Chapter 11.
As they approached the city near the Mount of Olives He sent two of the disciples into a near by village to fetch a colt with very specific instructions and "they brought the colt to Jesus and put their cloaks on it; and He sat on it. And many people spread their cloaks on the road, and others spread leafy branches which they had cut from the fields. And those who went in front and those who followed were shouting, "Hosanna! Blessed is He who comes in the name of the Lord; Blessed is the coming kingdom of our father David; Hosanna in the highest!"
And Jesus entered Jerusalem and came into the temple area; and after looking around at everything, He left for Bethany with the twelve, since it was already late.
On the next day, when they had left Bethany, He became hungry. Seeing from a distance a fig tree in leaf, He went to see if perhaps He would find anything on it; and when He came to it, He found nothing but leaves, for it was not the season for figs. And He said to it, "May no one ever eat fruit from you again!" And His disciples were listening.
Mark then jumps to Jesus re-entering Jerusalem where he again enters the temple area and begins to drive out those who were selling and buying on the temple grounds and He would not allow anyone to carry merchandise through the temple grounds. And He began to teach and say to them, "Is it not written: 'My house will be called a house of prayer for all the nations'? But you have made it a den of robbers." And the chief priests and the scribes heard this, and they began seeking how to put Him to death; for they were afraid of Him, because all the crowd was astonished at His teaching.
And whenever evening came, they would leave the city.
As they were passing by in the morning, they saw the fig tree withered from the roots up. And being reminded, Peter said to Him, "Rabbi, look, the fig tree that You cursed has withered."
And Jesus answered and said to them, "Have faith in God. Truly I say to you, whoever says to this mountain, 'Be taken up and thrown into the sea,' and does not doubt in his heart, but believes that what he says is going to happen, it will be granted to him.
Therefore, I say to you, all things for which you pray and ask, believe that you have received them, and they will be granted to you.
Also from Mark in Chapter 10 beginning in verse 46, Bartimaeus Receives His Sight.
Then they came to Jericho. And later, as He was leaving Jericho with His disciples and a large crowd, a beggar who was blind named Bartimaeus, the son of Timaeus, was sitting by the road. And when he heard that it was Jesus the Nazarene, he began to cry out and say, "Jesus, Son of David, have mercy on me!" Many were sternly telling him to be quiet, but he kept crying out all the more, "Son of David, have mercy on me!" And Jesus stopped and said, "Call him here." So they called the man who was blind, saying to him, "Take courage, stand up! He is calling for you." And throwing off his cloak, he jumped up and came to Jesus. And replying to him, Jesus said, "What do you want Me to do for you ?" And the man who was blind said to Him, "Rabboni, I want to regain my sight !"
And Jesus said to him, "Go; your faith has made you well." And immediately he regained his sight and began following Him on the road.
The above passages are wonderful FAITH messages weaved into the story of Palm Sunday and Jesus' Journey to the Cross. He was working right to the end growing the faith of the disciples and equipping them and us with the substance that we need to believe in His Healing Grace
Lastly Mark 10:45, "For even the Son of Man did not come to be served, but to serve, and to give His life as a ransom for many." May these scriptures provide the necessary encouragement to expand your FAITH walk and service here at St Paul and the surrounding community.
Things to look forward to and volunteer opportunities in the coming weeks and this summer:
Neighbor 2 Neighbor Event May 8, 2021: If you are interested in volunteering, please let me know. Teams will help seniors with yard work, window washing and/or gutter cleaning. Assignments will be outside projects that can be done safely from a distance and are in Dundee, Newberg, Sherwood, and along 99W towards King City.
Dog Nose Work Event is scheduled for Friday and Saturday June 4 & 5. There will be NO access to the campus for church members except people wanting to observe the event. In the past there have been around fifty participants who come from all over the Northwest with their four legged friends to participate in the Nation Association of Canine Scent Work It is really quite amazing to watch the enthusiasm of the handlers and dogs alike. If you are interested there is more informations and some videos on their website NACSW.NET
Robin Hood Festival: The festival and parade will be July 16-17; looking for a few leaders and volunteers for the float committee.
Vacation Bible School: VBS is set for August 2-6 and our theme is Outer Space! We will be doing Miraculous Missions based on John 3:16!
Blessings,
Tim Grace