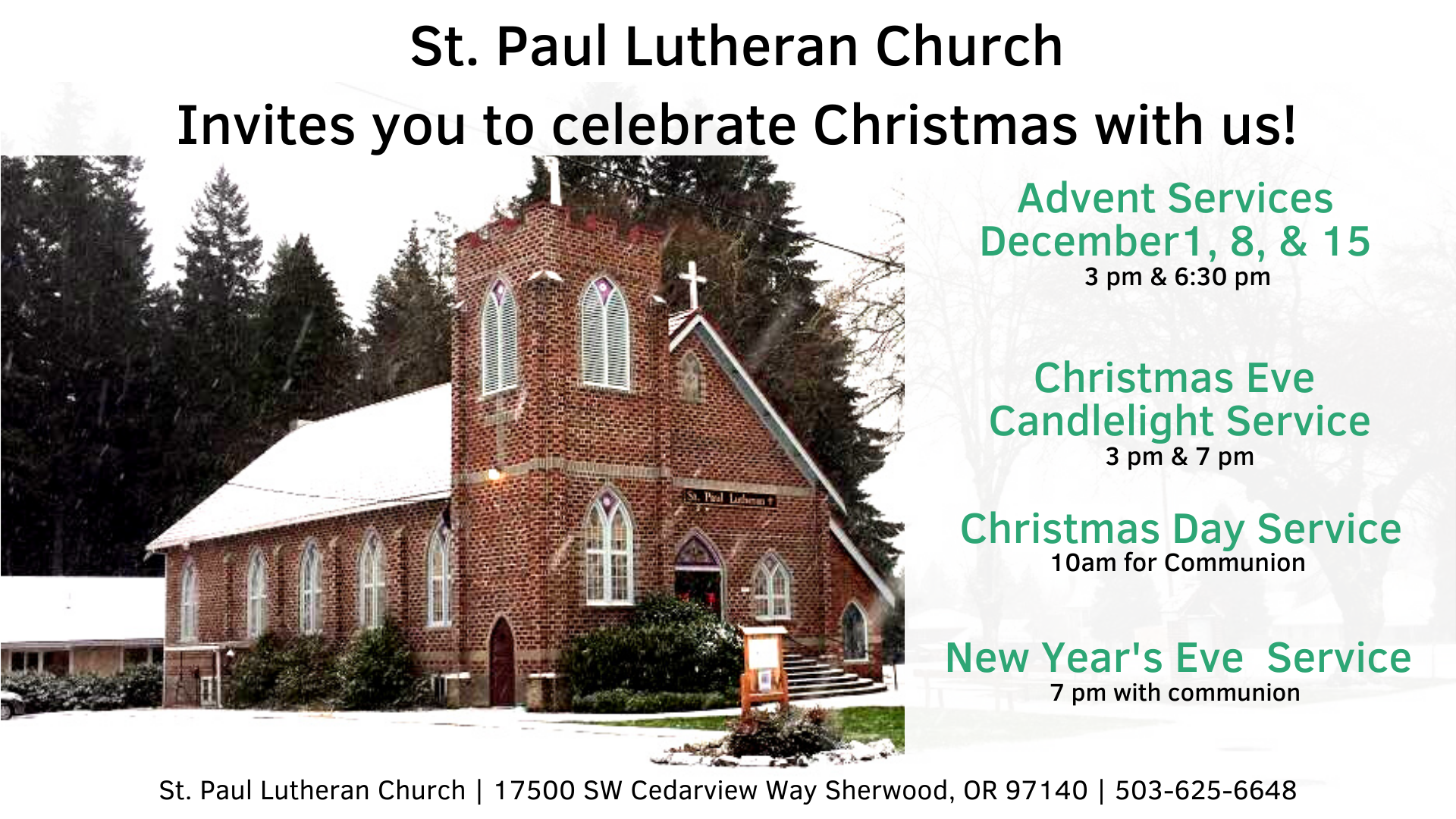 S.P.A.R.K.
(St. Paul Church's Announcements to Read and Know)
December 2021
WAIT UPON THE LORD
A Series of Sunday Services for Advent and Christmas
The season of Advent is characterized by waiting—waiting upon the Lord for his presence to be revealed to us on Christmas. In this worship series for Advent, we look back in Scripture at those who waited upon the Lord for his promises to come to pass through the Christ Child. We also look forward, contemplating how we should wait upon the Lord in this present moment of our lives, as God continues to make himself known to us.
Sunday, Nov 28 – Wait Upon the Lord with Faith (Galatians 3:8): Abraham and Sarah waited with faith for the birth od their son, Isaac, and we wait with faith for the birth of God's Son, Jesus, trusting that he will come at Christmas to save all people.
Sunday, Dec 5 – Wait Upon the Lord with Hope (Psalm 130:5): The prophet Isaiah declared the coming of the Lord, which gave the people in Israel hope for the future. We wait with hope for the future because we know what the future holds—a Savior.
Sunday, Dec 12 – Wait Upon the Lord with Rejoicing (Isaiah 25:9): Elizabeth rejoiced as she waited for the coming of her son, John the Baptist. And Mary rejoiced as she waited for the birth of her son, Jesus. In the same manner, we rejoice as we wait for the second coming of the Son of God.
Sunday, Dec 19 – Wait Upon the Lord with Gratitude (Psalm 91:1): Zechariah's waiting days for John the Baptist's birth were filled with great gratitude for the Lord's promise about to be fulfilled. In these remaining waiting days before our Savior's birth, we are ever more grateful for the arrival of the Promised One.
In between each Sunday of Advent, be sure to join us for midweek worship:
Wednesday, Dec 1 – Service of Readings and Carols 6:30 PM
Wednesday, Dec 8 – Sunday School Unwrapping the Manger 6:30 PM
Wednesday, Dec 15 – Youth-led Advent service 6:30 PM
Last but not least, our Christmas worship services:
Friday, Dec 24 – The Lord is Come (Luke 2:7): After our long Advent waiting, the Lord is come—into our lives, into our homes and into our hearts. It's time to celebrate his birth as our Savior and Friend. Come, sing "Silent Night" with candlelight, at 3:00 PM or 7 PM.
Saturday, Dec 25 – Let Earth Receive Her King (John 1:16): The wait is over and our new life with Jesus has begun. We join the whole earth in glorifying him on this day. This service will include The Lord's Supper. This service begins at 10am.
Sunday, Dec 26 – The First Sunday of Christmas It will seem like you've been to church a lot the last couple of days, but as the beloved Christmas carol goes, "O Come All Ye Faithful."